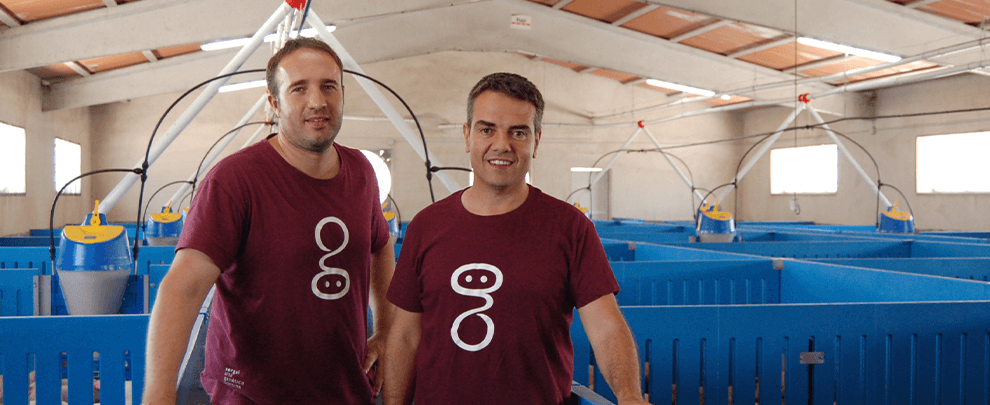 Advantages of working on the farm with polypropylene panels
26 of November of 19 - Success stories
The pig-fattening farm that the SERMAFARM company has in Agramunt (Lleida) stands out for its high biosecurity levels with respect to these types of facilities. Eager to ensure the health level at the farm, its manager, Sergi Armengol, chose to build the pen dividers with Rotecna polypropylene panels.
When did you decide to go into livestock farming?
I have been working in livestock farming professionally for almost 30 years now. My father worked in this field, so when I finished my studies, I thought that pig farming was an industry with potential and future projection, and I made the decision to continue with the family profession. At first, my father was involved in the buying and selling of piglets, but when I joined the company we decided to build pig-fattening farms and, in 1997, we decided to go one-step further and have our own sow farms. We currently have four pig-breeding farms, as well as two fattening farms that are ours and other integrated farms, in which we fatten our production.
Why did you decide to build this farm with 7,200 pig-fattening places?
It was a decision that was practically forced on us by the need to have more fattening places in the face of increase sow farm production. I also wanted these new places to be my own and not integrated. 70% of pig farming costs are in fattening, and I believe that, just as Spanish pig farming is highly professional in terms of sow farms, we still have a long way to go in terms of fattening. That is why I decided to build this farm, with a clear commitment to biosecurity and animal health. It is true that I have invested more money, but I am convinced and satisfied with the return I get in terms of health and production. There is really a lot to be done in pig fattening in order to optimise costs and benefits.
How is the farm laid out?
The changing room area is at the entrance, with clearly demarcated dirty and clean areas. As far as the farm is concerned, the fattening process is rather unusual, as we work with semi-forced ventilation, with the aim of improving production parameters in conversion and growth. To do this, we have four buildings, each of which is laid out in three independent modules with 600 pigs each. All the modules are controlled with ventilation and have separate troughs, feed lines, etc. We work as if we had three farms in each shed. This allows us to bring in batches of 600 pigs each week.
Which Rotecna products have you installed?
Virtually all the equipment on the farm is Rotecna. We have the separating panels, the Swing R3 Tube and Grow Feeder feed hoppers, and the feeding system.
This farm was one of the first to install Rotecna polypropylene panels in 2016. Why did you choose this type of panel?
I had heard about the plastic alternative and Rotecna's new range of panels when I first considered this farm, although concrete dividers were more common in Spanish pig farming. I talked to the company to find out more about the product and I chose this option, mainly because of its advantages from a health and hygiene point of view.
What benefits would you highlight in this product?
The most important thing is that it is a very clean product, something that greatly facilitates hygiene and disinfection work in the sheds, with much better results than those obtained with concrete dividers. The panels are quick to clean, something which saves time and water. We have been working with them for more than four years and each time we clean them they look like new. Furthermore, it is in fact the easy cleaning of these types of panels that helps to maintain the good health status of the farm and thus meet the challenge of reducing the use of antibiotics. If you decrease infection pressure with proper hygiene, control the entry of personnel and have correct biosecurity measures in place, you are bound to save on antibiotics.
When it comes to hoppers, they work with the Swing R3 Tube and the Grow Feeder. Why did you choose to install two different models?
There were two hoppers that I liked and, as I have other pig-fattening farms, I decided to try both models and see which one worked best for me in the same production conditions. The truth is that despite some differences in use, the two hoppers give very good results. Moreover, the secret of a good hopper is that it does not waste feed, and this condition is fulfilled in both hoppers. In the four buildings that we have, we actually work with the Swing R3 in two of them, for pens with 15 animals, and with the Grow Feeder and pens with 12/13 animals in the other two.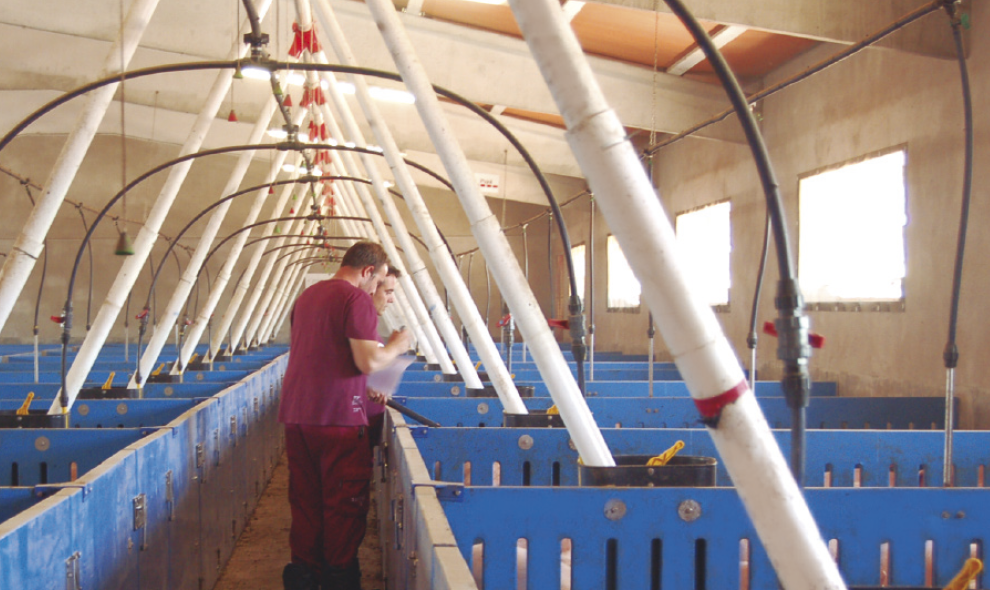 In two ships work with the Hopper Grow Feeder. Photo: Rotecna.
What advantages would you highlight in each model?
In the Swing R3 I would highlight that it allows you to put more pigs in each pen, requires less handling by the farmer and is very accessible for smaller piglets, which adapt quickly to its feed drop system. As for the Grow Feeder, it is a hopper that needs a little more handling, but if it is adjusted well it offers very good results. By working with lower density pens, you can in addition check the animals better visually.
In general, what do you value most about Rotecna?
In our case, in addition to proximity, which is undoubtedly something to be appreciated, the fact that this is a company that is at the forefront in terms of innovation and research, always launching new products on the market that bring benefits to the work of the farmer and help us to optimize costs. A brand is recognized worldwide, offering a wide range of products that work very well in terms of value for money.
In terms of health, what are your main concerns?
What most concerns the industry now I think is African swine fever, which we already have in various countries in Europe and which is a real threat. If we do not do things well in terms of biosecurity, we may have a serious problem, as we export 50% of our production.
What biosecurity measures do you apply on the farm?
The maximum ones. We have all the perimeter fencing, clearly demarcated dirty and clean areas, clothes and footwear solely used on the facilities, all personnel entering the farm (internal and external) go through showers, proper cleaning and disinfection of the buildings, rodent control, aviaries, containers for corpses outside the farm ... We have a circuit for trucks, in which the dirty area is very well separated from the clean area. All the trucks that enter the facility have to pass through a disinfection area in which they are completely disinfected, inside and out, covering the route and leaving through a different gate, which is located in what we consider a dirty area. The feed trucks load the silos from outside the perimeter fence and the pigs are loaded and unloaded at the based on the other side of the farm (in the dirty area).
Finally, what future challenges are you facing as a farmer?
As for this farm, I have already reached 7,200 places and there is little more I can do. However, we are working to continue growing in terms of production; sows are becoming more and more hyper-prolific, so later on I would like to build another pig-fattening farm, if it can be my own.