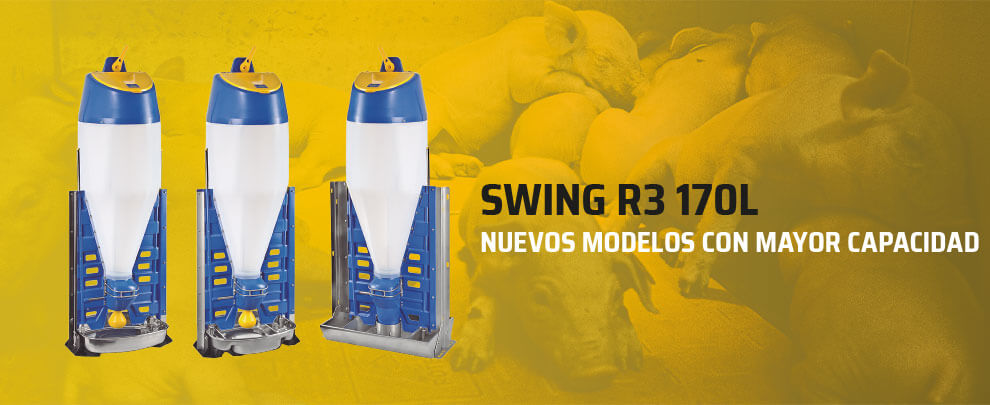 Swing R3, new models with capacity up to 170 liters
11 of June of 20 - News
The options for managing food on farms are very varied and depend on numerous factors, such as the existing trends in the market in which the farm is found, the climate of the territory, the type of facilities available, spaces, kind of pens, breeder's management preferences… Because of this, Rotecna continues to bet on the development of its successful range of Swing R3 hoppers with the launch of three new models with a higher capacity: 170 litres.
The Swing R3 Duo, Wet and Tube fattening models are now available in two sizes, with a capacity of 95 and 170 litres respectively, allowing the farmer to fit the one that best suits his needs.
The new tanks increase their capacity by 75 litres, which in most cases means only one filling is needed to be performed per day.
MODELS
Swing R3 Duo
Swing R3 Tube Finisher
Swing R3 Wet
ADVANTAGE
170 litres capacity.
Maximises consumption and minimises feed and water waste.
Quick adaptation of the smallest animals.
Precise regulation for easy and fast handling.
Design that facilitates the lowering of the feed.
Two mechanisms to choose from: pendulum or tube.
Different options for dispensing water on the plate.
COMMON FEATURES OF SWING R3
Monoblock construction with inserted tubes.
Stainless steel chassis.
Hopper with a design that facilitates the lowering of the feed.
Sideloading/top-loading device.
With rounded corners and no corners to avoid food accumulation.
Precise regulation (24 positions) with easy access and out of the reach of the animals.