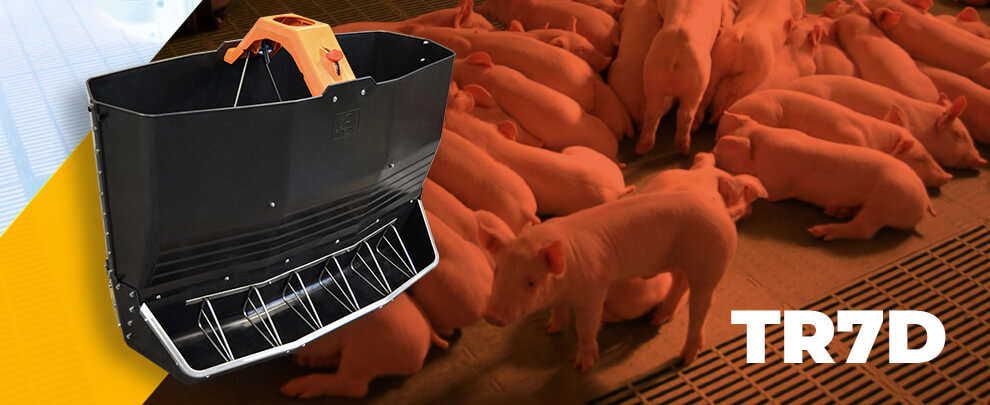 New weaning feeder with large capacity and handy regulation
31 of March of 20 - News
We observe a trend to increase the size of weaning pens as the average size of farms increases. Since, if the health status is good and the animals require little individual attention, the large groups of piglets, with a lower hierarchy, offer advantages in terms of the adaptation of the animals, reduction of fights, problems of tail biting, the clear definition of feeding, resting and dunging zones, and the cost reduction of separators and canopies to create microclimates.
At the same time, many farmers are using dry feeding of newly weaned piglets for its simplicity and ease of handling, in a phase in which the animal's daily consumption is still moderate.
To respond to this need, we launch our new TR7D feeder for weaners in large groups, a double-sided feeder with seven feeding spaces on each side and easily adjustable. With a maximum capacity of 330 liters, it allows feeding from 70 to 84 animals with a single daily filling.
Independent regulation of each side regulation with just one hand
The TR7D has an easily adjustable mechanism that allows to adjust the feed flow with one hand and make a quick and precise transition from point to point (10 positions). This easy regulation guarantees a precise adjustment of the feed flow and reduces waste.
Finally, the "sandwich" system facilitates the adjustment of the hopper even full, since the slide-gate is protected by a sheet, which allows it to slide smoothly, without resistance of the feed.
ADVANTAGES
Maximizes feed consumption and minimizes waste.
It is only necessary to fill it once a day.
The height of the pan allows the piglets easy access to the feed, facilitating their rapid adaptation.
The feed slides easily through the hopper without bridging.
Facilitates manual filling of starter feed.
Easy handling of the hopper even full.
FEATURES
It allows feeding from 70 to 84 animals.
Maximum capacity of 330 liters.
Compact and resistant.
Rounded pan without corners where feed can accumulate.
Regulation with one hand and independent on each side.
Protected regulation gate.
Design that facilitates the feed flow.