29 of August of 18 - Success stories
"With more than 20 years of experience in the pig industry, Alberto Pascual, with two farms of 2,500 sows each in Avila, decided to take things a step further and, in 2016, started a project from scratch to build a breeding farm for 3,000 sows. In the design of the new operation, Alberto went for a very different type of farm, with new management methods, high biosecurity measures and a clear commitment to energy efficiency."
- How has been the family farm evolved?
My father began with a farm of 700 sows, La Serrota. Then, when I finished college, we upgraded the farm to 2,500 sows and built another in Villanueva de Gomez, also for 2,500 sows. From there, during these last few years we have been working to improve the facilities on these farms, bringing them up to date and adapting them to animal welfare standards. Finally, two years ago, we started building a genetic breeding operation with 3,000 sows, which has been the culmination of all the work we have done all these years and all the experience we have gained. It is a business that we have set up from scratch. We call it Grangenia. - Why did you decide to start this operation?
Although we already had 5,000 sows and Grangenia was a step up in quantity, what we were also looking for with this business was a step up in quality. With this project we have had access to new knowledge, different kinds of management, we have consulted with professionals, focusing especially on areas such as biosecurity, hygiene, the reduction of antibiotics... At Grangenia everything is being done with a lot more foresight and accuracy.
- What are the main features of Grangenia?
It is a business focused on energy efficiency and the generation of synergies between different aspects of production, design and animal welfare in order to be more efficient. The most outstanding feature of Grangenia is the design of the delivery pens, where we are able to let sows free in the pen; as well as 50% of the ventilation being natural, so we only need heating on the first five days after delivery, and we wash and disinfect the pits after each lactation, without having to disassemble anything and without much effort. Grangenia is also operating with tight biosecurity measures. There is nothing outside of the barns. There is no need to go outside to do any kind of maintenance (mechanised windows, cooling, ventilation...); everything is done from within.
- What Rotecna products have you installed on your farm?
In farrowing we have the Ni-2 Corner, and the slatted floors; farrowing and gestation have the VRH-3 valve; in gestation, the Four dispenser; and in breeding the TR-5 hopper, as well as the Grow Feeder fattening hopper. All the internal partitions in the barns are made with white polypropylene panels, the confirmed gestation partitions are made of green polypropylene and the farrowing partitions with blue polypropylene panels and PVC fences, among other products.
- Why did you decide to work with Rotecna products? Because of their reliability, both in performance and duration, as well as the guidance we got from the company, and its seriousness at fulfilling orders, the delivery... The professionalism behind all of their products shows.
- In farrowing, you decided to work with the Ni-2. Why?
Our farrowing uses quite a revolutionary barn design, which I designed personally. It's farrowing without underfloor heating or other heating systems, so the only heat that the piglets receive during the first five days of life is the infra-red from the Ni-2. In addition, the design of the pens is also special, with a tray under each sow that means there's no need for a deep pit (only 10 cm) and this prevents cold drafts under the piglets. So only with the Ni-2 and blind plastic grills, we can maintain the temperature for the piglets in the nest. And we chose the Corner model because it fits the design of the farrowing pens with a few cages arranged diagonally.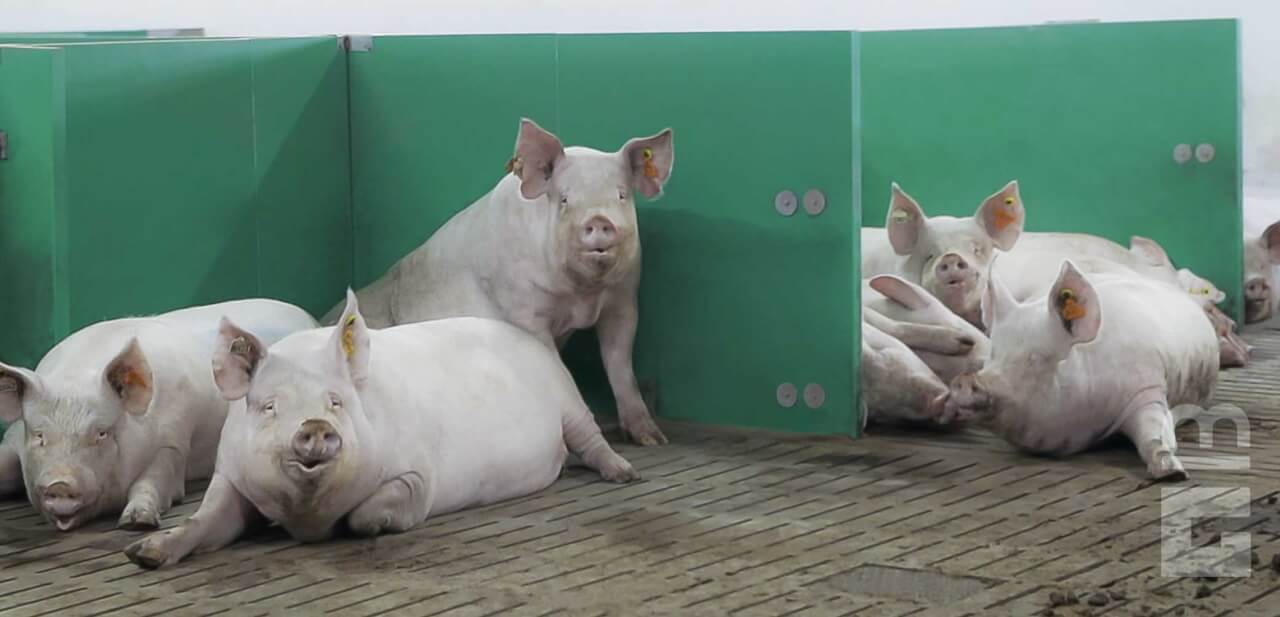 - What are the main benefits that you would highlight about its use in farrowing?
To begin with, it reduces mortality, because you are able to keep the piglets warm and the sow cool, and you have enough surface beneath the nest for all the piglets to lie inside where they are protected from the sow. We also get to make energy savings, of course, since you're only heating the piglet area. And, finally, I would emphasize the possibility and easy mechanisation of opening the nests. You can open all the nests in a barn at the same time and therefore manage the piglets more easily.
- You have also installed polypropylene panels in different places and for different uses. What are the advantages of this type of panel? Everything is focused on easy washing and disinfection of the facilities. White polypropylene panels mean you can always see how good the wash is, because dirt is visible right away. They are also very efficient for achieving a reduction in the use of antibiotics on farms, because thanks to the easy to clean and non-porous material, you get proper hygiene and disinfection of your facilities. Precisely because the facilities were quick and easy to wash, we could reduce water consumption and labour costs. On the other hand, it is a type of construction that can easily be modified if you have to make refurbishments or increase the size of your farrowing pens, as is expected to happen within a few years (although the farrowing pens at Grangenia have already been designed in anticipation of this change in legislation). Two people can assemble and disassemble the wall of a barn in a matter of hours.
- Finally, what future challenges does the farm face?
To try to set new standards. We wanted to provide the industry with a different kind of farm. We are the first operation in Spain to have free-range sows at delivery and natural ventilation in farrowing. Our challenge is to, on the one hand, keep the operation clean in terms of sanitation, and on the other, to certify that all of the advances that we have developed can be standardised and are exportable to a conventional type of farm."