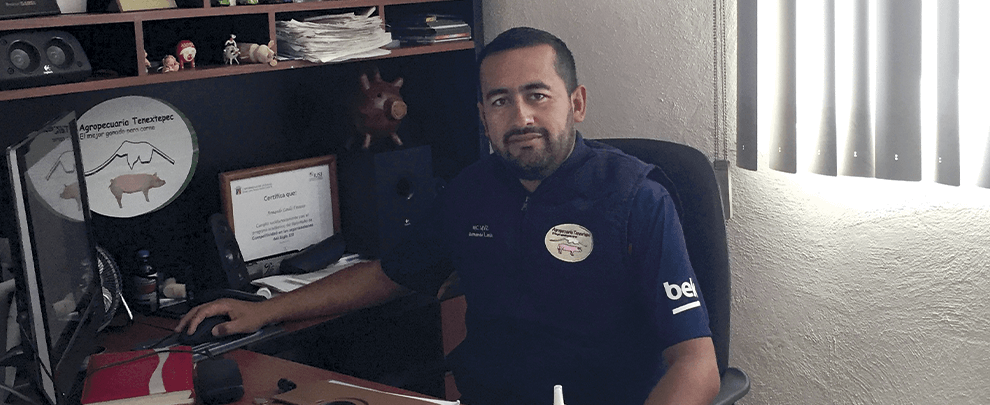 Armando Landa, Mexico: "The Swing R3 hopper has enabled us to improve feed conversion"
14 of October of 19 - Success stories
With a herd of 3,000 sows and more than 75,000 piglets weaned per year, the Mexican company RYC Alimentos owns a 40 year old pig farm. Armando Landa, a veterinary surgeon by profession, has been working on this farm for ten years. He is in charge of management and administration of the farm, supervision of its health status and monitoring of its production figures. "As a student, I had a passion for the pig farming industry, and so I decided to train in this field at a young age", explains Armando.
With 40 years of history, how has the farm grown over time?
The farm began in 1975 as a family smallholding with 20 sows and a boar, but after five years, we had already expanded to 200 sows. So the family decided to build a new farm, expand the herd to 500 sows and improve its facilities. From there, the farm has not stopped growing. While 20 years ago there were 1,500 sows, we now have 3,000. This growth has occurred in parallel to the creation of the RYC Alimentos company, which processes the meat that we produce and has 1,500 employees. The firm that currently owns the business is known for being innovative, and highly committed to increasing efficiency, and we are doing this by improving and remodelling our facilities.
How is the farm laid out?
The farm has a complete production cycle and 50 workers distributed among the six areas into which the farm is divided. In particular, it has seven gestation barns with 150 cages and an automated feeding system where the sows are kept for 49 days; then we transfer them to gestation rooms until the 110th day of the gestation period. We have 480 farrowing pens, 60% of them with a Feeding Ball. On the other hand, to guarantee the best sanitary conditions, there are 17 weaning barns at a distance of about 1 km with sufficient capacity for 11,600 animals, plus 17 finishing barns, each of which has sufficient capacity for 1,100 animals. Last but not least, we also have a barn for the adaptation of first-time mothers and a feed preparation plant.
What Rotecna products have you installed on your farm?
We have a huge variety of Rotecna products, particularly the Swing R3 hopper, the Feeding Ball, the slats, the heating plates and the feed distribution system, among others.
Why did you decide to buy Rotecna products?
When we last expanded our facilities, and in order to decide what equipment we'd install on the farm, we conducted various assessments and analysed the potential returns on investment. And we found that Rotecna products are very good quality. They work very well and give good results, so we decided to install them.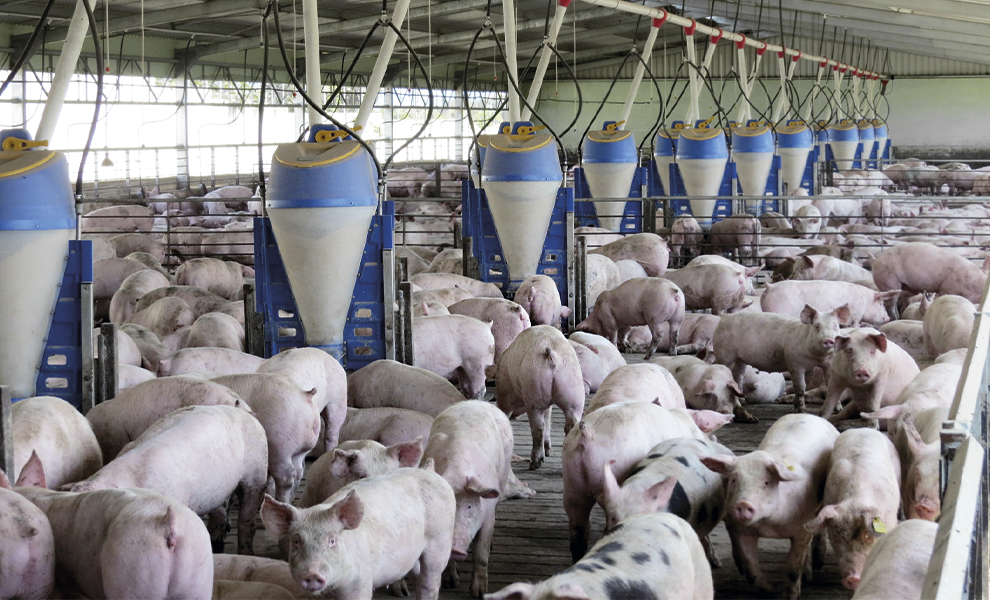 Weaning barn with Rotecna Swing R3 hoppers and slats.
In wean-to-finish, you work with the Swing R3. What benefits does this hopper bring?
It is a very efficient hopper, and has allowed us to significantly boost several production parameters in these phases. Specifically, having it has improved feed conversion and increased our animals' daily weight gain. And one of the main advantages of the Swing R3 is that feed is not wasted, and there are no feed restrictions at any time, which makes life a lot easier for the farmhands.
In farrowing you work with the Feeding Ball. What made you decide on this product?
It is a very innovative product. Just like we did with the other products, we assessed it before installation and detected an increase in the feed intake by our sows at the lactation stage, so we decided to install it in our farrowing pens.
What benefits would you highlight about its use in farrowing?
The benefits that we have noticed from using it are that there is less wastage of feed, the sows eat more, they are better fed and produce more milk, so the piglets are heavier at weaning and we have also noted less loss of body condition among sows. Also, in terms of workforce, its use implies savings in the time spent feeding the animals.
In terms of the industry, what is your opinion of the pig farming industry in Mexico?
The Mexican pig farming industry is a complicated sector with an uncertain future that could be threatened by meat imports from other countries at a lower price. In this regard, to stay in the business, the industry must work on different aspects such as increasing exports of Mexican meat, being more efficient in terms of production parameters and improving production costs.
In health terms, what are the main concerns of the industry?
The main threats we are currently facing and which are of great concern are PED, PRSS and influenza. To guarantee the best sanitary conditions and prevent the development of outbreaks of these and other diseases, we implement different practices on our farm, such as an integral biosecurity programme that includes the complete closure of the farm, in which we generate our own genetic methods to prevent the entry of external animals, with an order delivery point at a distance from the farm or disinfection arcs at the entrance to each area. We also have our own vaccine and medication programmes.
Lastly, as a pig farm, what challenges do you envisage in the future?
At present, our main objective is to improve the production efficiency of the farm. To achieve this, the first goal we have set ourselves is to get a sow to produce 3,000 kilos of meat per year.