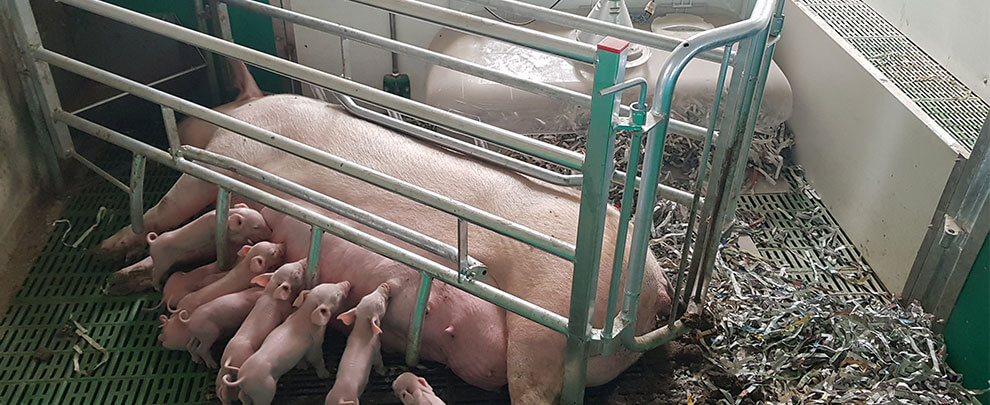 F. Borque: "Sooner or later, free maternities will prevail"
09 of June of 20 - Success stories
Convinced his future would be linked to livestock, because it was what he had seen all his life at home and what he was passionate about, 27 years ago Fernando Borque began working with his father in the family business --pig farming-- and investing in his future. Thus, the farm which started its activity with 100 sows in 1984, grew to 300 breeders. After successive growths, in 2019 Fernando decided to enlarge the facilities and go from 900 sows to 1,550. The leading feature of this expansion has been its commitment to working with free maternity wards.
Why did you decide to devote yourself to pig production?
It is a family business. My father started 35 years ago, which is why I have always seen him at home. I like animals, so from the beginning, I was very clear about what I wanted to do.
How has the farm evolved?
My father started with 100 sows, then I joined 27 years ago, and we raised the farm's count from 100 to 300 sows, we then went to 700, after that to 900 and, in this last expansion, we have reached 1,550 sows. We have always worked with maternity and weaning, where we now have 6,000 spaces.
How is the farm distributed?
We have two gestation buildings, in which almost 70-80% of the time, use the inseminate and release method with open access boxes. Then we have the maternity hall with 360 places, two weaning houses with 6,000 places, quarantine and a deviant room.
How many people work on the farm?
We are six employees: 2-3 people in gestation, 2 in maternity, 1 in weaning and myself, working as support in the different stages. We do weekly shifts where half a team works from Monday to Friday from 7:00 a.m. to 1:00 p.m. and the other from 7:00 a.m. to 3:00 p.m., and weekends. I am also there in the afternoons to see how the day has gone and prepare for the next.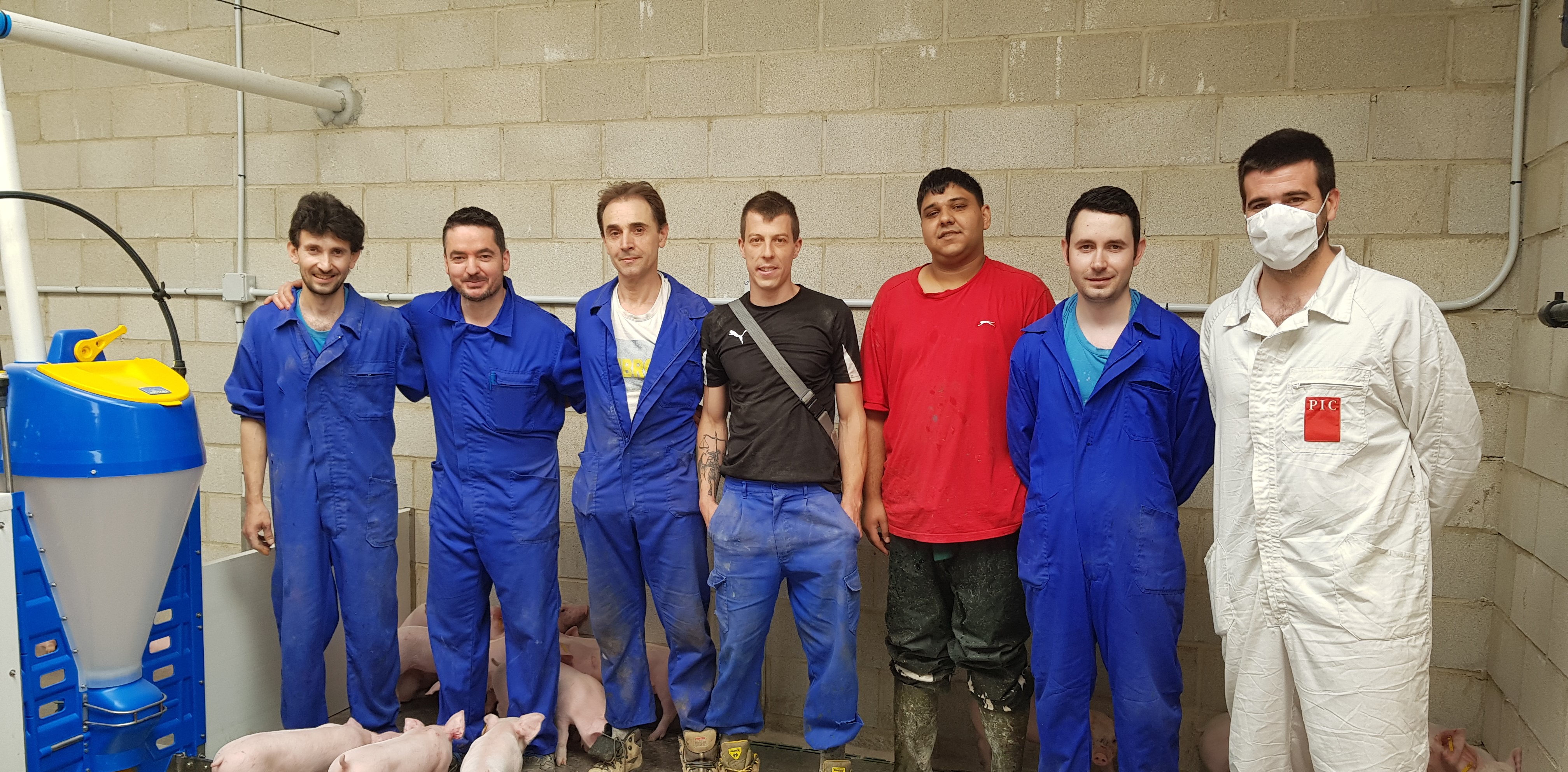 The team of employees working on the farm. Photo: Rotecna.
This farm works with free maternity wards. Why did you go for this type of accommodation system?
I think it is the future of the sector and that sooner or later it will prevail. At the last FIGAN fair in Zaragoza, we saw that at the stands of the leading farm material companies, what stood out most was this type of maternity accommodation and we think that this was another sign of where we are heading. Therefore, in the last expansion we went for incorporating this model. We now have 160 free farrowing pens (5 rooms with 32 spaces) and 200 conventional ones (10 rooms with 16 spaces and five rooms with eight spaces).
What are the characteristics of the free places with which you work?
They are squares totalling 6.25 square meters, precisely measuring 2.60 meters deep by 2.40 meters wide. The system that we work with allows us to have the sows caged, as in a conventional farrowing pen the first 4-5 days after farrowing and, on the fifth or sixth day, we release them and work without problems until 28 days of lactation, when we do the weaning.
What benefits would you highlight compared to the conventional pen?
It is early to draw conclusions about the number of casualties, but what we have noticed in these first days is that it seems that the crushing is much less frequent than in the conventional farrowing pens (which are 1.80m x 2.60m). On the other hand regarding work, it is much more comfortable for the employee, due to the space available both when the sow is locked up and when working with the free farrowing pen. Employees are delighted with the new accommodation model. Besides, it is also noted that the animal is much better.
What are the main differences between managing a standard delivery and free delivery?
There are really few, but the handling is better and more comfortable for employees since we have more space when moving around and assisting the sow. For the rest, a few changes: we manage the deliveries as in the conventional farrowing pens, where we also do nest management to which the piglets adapt quickly. Hence we succeed in reducing losses and guarantee a comfort zone. At night, in both systems, we leave a support spotlight on, but during the day, there is no light, and the piglet goes to the nest without any problems. We indeed lay more paper than in a conventional pen, but it is because the hold is also larger. In conclusion, beyond the increased handling ease for employees, in all deliveries we work with the same elements: paper, nest, heating plate and a spotlight at night.
Do you think that the future of the sector depends on this model of maternity spaces?
Without a doubt. Primarily due to consumer demand, which increasingly requires higher animal welfare. Sooner or later, the change will be mandatory.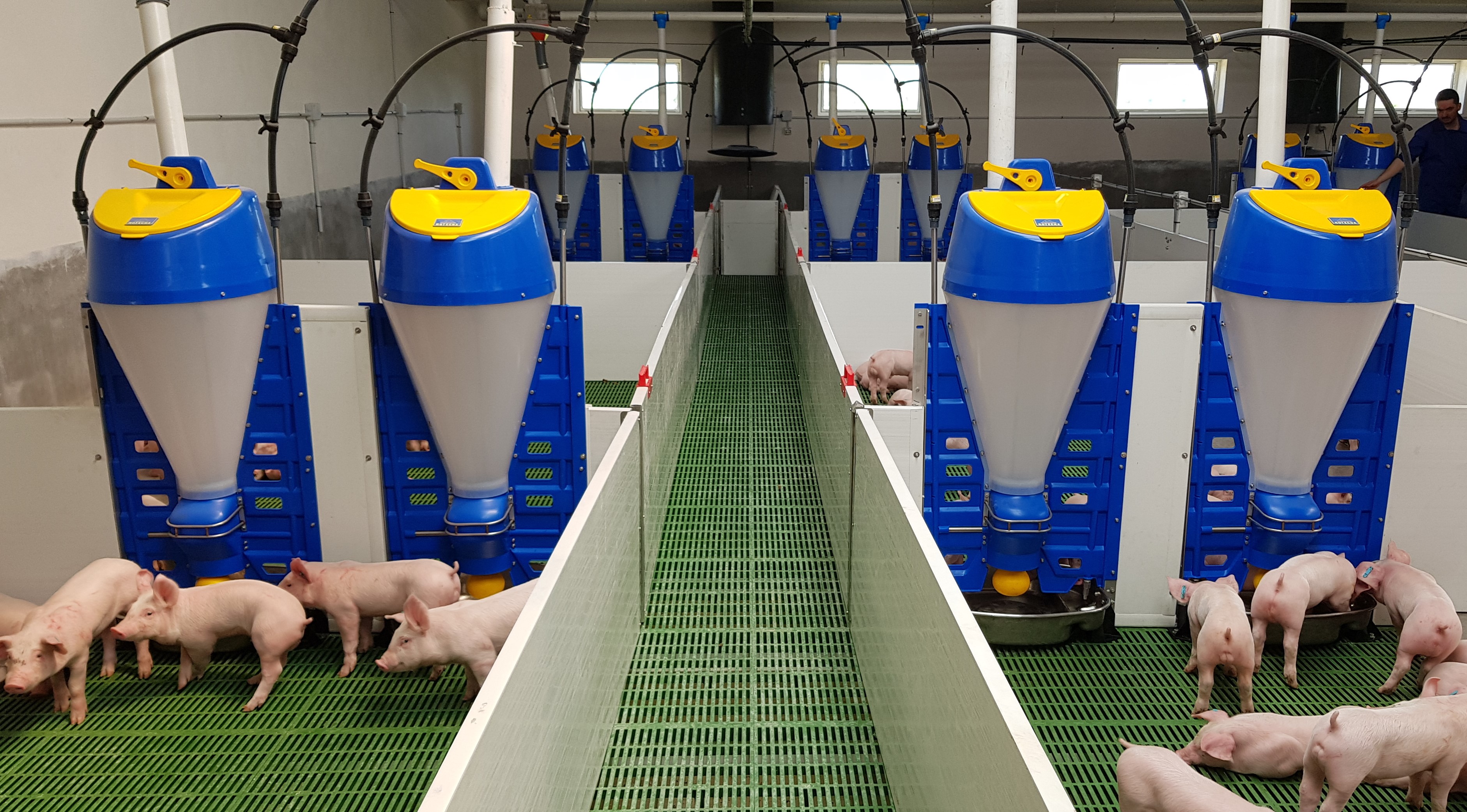 Wean with Swing R3 installed. Photo: Rotecna.
As for the farm equipment, a large part of the products installed are from Rotecna. Why was their use decided on?
Mainly, the products' excellent value for money. In my opinion, compared to other brands, it is the one that offers better equipment. On the other hand, they are products that are easy to install, handle and guarantee excellent durability. Some are products we installed more than 15 years ago, and there has been no need to renew them.
What are the main Rotecna products that you have installed?
Practically everything we have is from Rotecna: dispensers, maternity and weaning racks, nests, the Swing R3 hopper, the Feeding Ball, plastic panels, the feed distribution system...
In maternity, you work with transparent Ni-2s. What advantages do they provide compared to other models on the market?
They guarantee the piglets' comfort which is something essential. The fact that they are transparent makes it easy to see the animals and make sure that no one is left behind. I think that it is very successful to work with nests in maternity.
How do you use Ni-2 in maternity?
We use them throughout lactation, from the birth of the piglet until 28 days afterwards, when weaned. The first week we work with the nest in the lowest area and then, as the animals grow, we raise it to the highest. The spotlight is used for farrowing to collect the smallest piglets from the litter and at night. Along with the nest, we work with hot plates, which we have a regulator for that we control from a mobile phone. We start with 37-38 degrees postpartum and gradually lower the temperature, as the age of the piglet increases. The temperature in the nest is perfect if we see that the animals rest comfortably under the cover.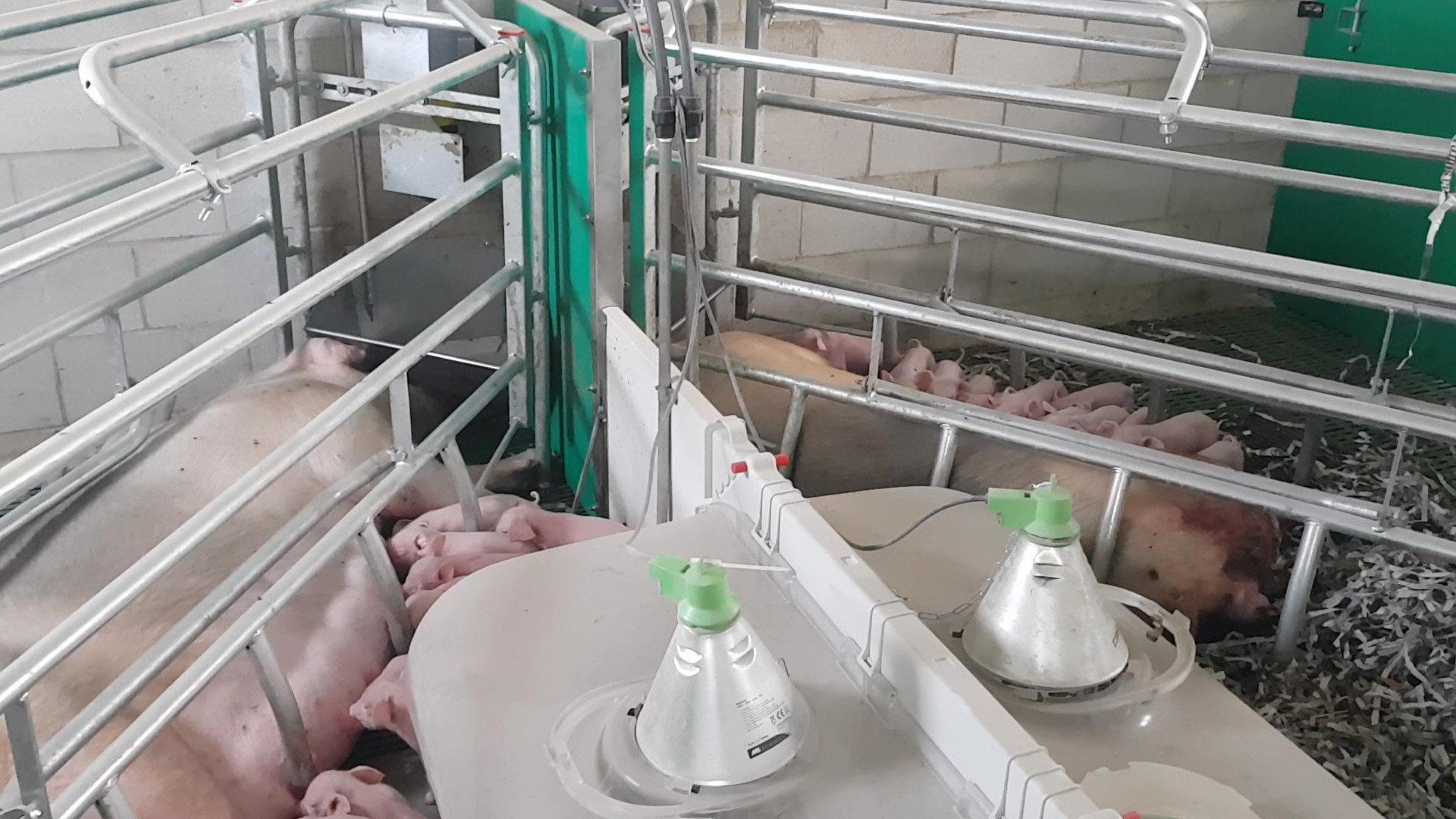 Maternity room with transparent Ni-2. Photo: Rotecna.
Given the existing health threats, such as the PPA, what biosecurity measures do you adopt on the farm?
We try to be as rigorous as possible in the application of biosecurity measures since this area is very populated with pigs. First of all, we only allow visits to the farm on Monday mornings, as long as you have not been to any other farm during the weekend; it is compulsory to shower and change clothes before entering the farm and we have double fencing. Besides, as soon as we finish the projects, we will work colour-coded (the employees will be dressed in different colours) to differentiate the various areas/warehouses of the farm (gestation, maternity, quarantine, weaning and deviating). In areas of high pig density such as this, one must be very careful.
In this sense, does working with plastic panels like Rotecna's have advantages in reducing the propagation of diseases?
Yes, mainly for cleaning: it is easier and more efficient to clean a plastic panel than a concrete or iron partition. Until now, we have been working with cement, and we have confirmed that when it comes to cleaning, a plastic panel is much cleaner than a concrete one. Besides, the work is performed in less time, so labour costs are reduced and there are significant water savings. Additionally, in the old part, when a concrete partition breaks, we replace it with plastic panels.
What future challenges will you be facing?
Finish commissioning the farm expansion. It has been a significant investment, and we have to go little by little to pay it off. In the future, we would like to work with all the farrowing pens and close the cycle, do the entire production pyramid: grandmother sows, hybrids, gestation, maternity, transition and bait.