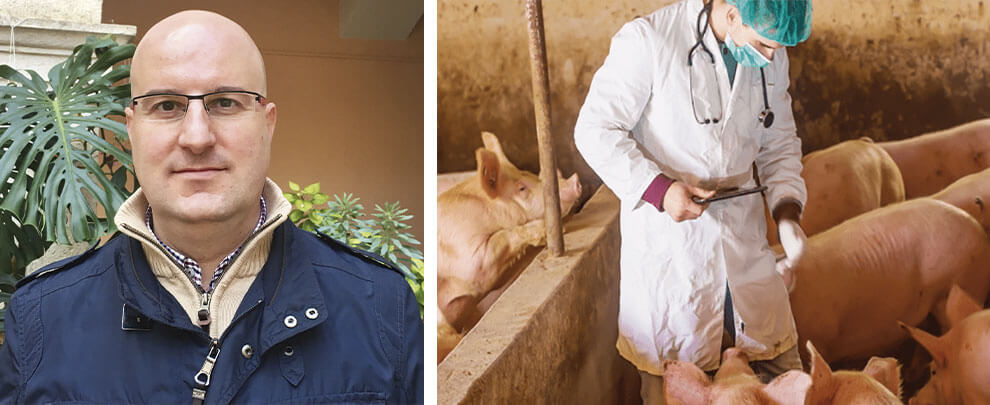 M.A. Higuera: "It is in our hands to prevent ASF from entering Spain"
24 of March of 20 - News
On November 8, Miguel Angel Higuera, director of ANPROGAPOR, was elected president of the Animal Health and Welfare of Copa-Cogeca in Brussels group. With this position, which he will hold for two years, Higuera represents not only Spanish breeders, but also the rest of the breeders of the 28 member states. In this 'Pig News' we talk to Miguel Ángel Higuera about the new challenge he is facing and analyse the current situation of the Spanish pig sector.
What does the position of president of the Cogeca Cup animal health and welfare working group represent?
Copa-Cogeca is the union of two organisations representing all European animal, plant producers, and cooperatives. From there, at a structural level, its actions are subdivided into workgroups, one of which represents the interests of all the countries of the European Union on animal health and welfare. This is the group in which we currently hold the representation of all European producers, so it is a relevant position.
How did you receive the designation?
Incredibly proud and positive. Being an elected position, it means that colleagues from other countries have trusted me to represent them in the Copa-Cogeca secretariat and before the European Commission and Parliament on all matters concerning animal health and welfare.
What is your role?
The day-to-day work is carried out by a secretary, who works at Copa-Cogeca. My job is organising aspects related to livestock in terms of official disease control, as well as some more specific ones concerning livestock species that are of particular interest. We work on these together with the European Commission, Parliament and the OIE (World Organisation for Animal Health), which are the three bodies with which we have close links and constant meetings. Furthermore, in the field of animal welfare, the EC is currently establishing a new strategy which seems, will lead us to work over the next two years on a modification of the general animal welfare legislation, that dates from 1998.
What challenges have you set yourself for your presidency?
From the animal health point of view, to help the EC to implement 100% of the European animal health regulation that was approved in 2016 and that has four years of a moratorium to carry out all the delegated acts and implementation acts; so we are in full swing. We also have the issue of antibiotic resistance and notifiable diseases, where some of the priorities are African swine fever (ASF), highly pathogenic avian influenza and tuberculosis in cattle; finally, still concerning animal health, we have the biosecurity challenges. In this regard, we are campaigning in different countries to increase the minimum biosecurity requirements in a general way in all Member States, to increase farm and animal protection. On the other hand, from an animal welfare point of view, we are going to continue with the correct implementation of the existing regulations at farm level in all Member States, both in transport and at slaughter, and ensure that everyone is applying the same measures. We are also going to continue to be part of the European platform for animal welfare, where I will also be the European producers representative and where work will continue on issues relating to transport, journey times and high-temperature travel. In the pork sector, we are going to deal with important issues such as tail docking and castration, and in the dairy cattle, beef cattle and rabbit sectors we are going to discuss the need to have specific regulations for each of these species. Finally, we are developing the issue of animal welfare labels intending to merge the different tags in each country and have a single tag at European level.
Do you think it is beneficial for the Spanish pig sector to have a national representative in this working group?
No doubt about it. What Spain needs is not only to attend these meetings but to have a say in helping our sector have a better future. Everything is in the air in Brussels, so the more voices we have, the better.
As director of ANPROGAPOR, how do you see the Spanish pig sector?
On the economic and market level, very good. At the risk level, we are at a very worrying time because, although the expansion of ASF is slowly developing in Europe, it is devastating in other areas, especially in Asia. We are seeing how the countries infected with ASF have serious problems containing it and also being in the market. Therefore, we are looking at market prospects with optimism because we are a large producer, a significant exporter and we have room to work, but at the same time with some apprehension because things could change any day. Therefore, the main message we want to convey is the need to work for health protection and, from there, seek to be more competitive in the market. Another aspect we have to work on is the emissions issue and the environment. This is one of the most social elements that we have to address. We must continue to make progress along the current lines, reduce the sector's emissions to continue to grow and be a leading sector.
Is ASF an impending threat that should be of concern?
It's a real problem. The significant disadvantage of ASF is that not only is it transmitted by sick animals, but also with products. That is why part of the prevention and control strategies are up to the farmer, especially concerning the animals' movement. There are other areas, however, where we have few possibilities for interaction, and we need third parties, such as the administrations, to perform a reasonable control of illegal goods, especially of products coming from dangerous countries and even of tourists who may unawares commit the madness of bringing in some infected meat product. Our message is not to lower our guard at any time, because the threat is real, and it is in our hands to prevent ASF from entering Spain.
Are we experiencing a bubble situation with exports to China? Can it be dangerous?
It can be so for the markets (also in the pig sector) as they are neither subsidised nor supported and depend on supply and demand. Right now, there is a strong demand from China, which pays more for the products and therefore, as a good trader, you sell to the one who pays you best. China is changing the market at an international level, and it is generating an unbroken line of supply because it has a lot of demand for meat that it needs to buy and it has money to pay for it; this causes prices to rise, and it is the cause of many exporters looking for those higher prices. What is the main problem with all this in Spain? Well, the degree of commitment we are making, as last year 25% of all our exports went to China. This is a fundamental level of commitment because we understand that, although it is not from one day to the next, China will resume production and will no longer be a client. We have a significant level of commitment to one country, and there is no doubt that this is a risk.