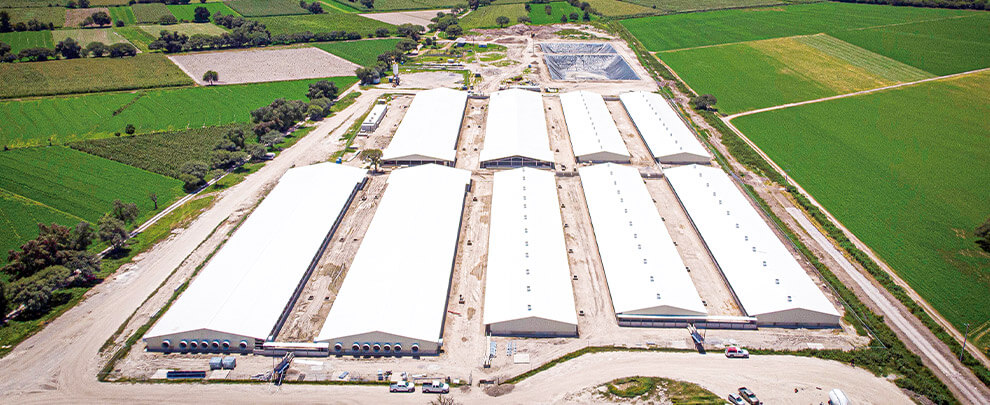 Pig production grows in Mexico
29 of October of 20 - News
The Mexican pork sector is characterized by highly concentrated competition, with few companies, although large, that group different business units and usually combine the entire production system, from breeding to meat distribution and its derivatives. Large farms, which are the ones that can import animals from abroad, support almost half of the local production. The pork sector represents 21.71% of the Mexican meat industry, but it is not enough to cover national demand and forces the industry to resort to imports given the high consumption of this food.
Production
The high consumption of pork in Mexico has contributed to the increase in its production. In 2017, the production of this meat was the one that grew the most in the country, both in tons produced (4.8%) and in value (9.3%, which represented a total of 3,242 million dollars).
Although pork farming is performed throughout the country, there are three areas where almost 50% of the total national pork production is located: Jalisco, with 301.15 kt (kilotons), Sonora (261.76 kt) and Puebla (165.56 kt. The latter and the Yucatan area are leading the boom in national production, and are experiencing the highest growth rates: 35.5% and 32.1% respectively.
Regarding farms, up to three types of farms can be differentiated in Mexico. Firstly, there are farms with small-scale or rural systems, that is, farms with less than 50 breeders and less than 200 heads, without access to technology and adequate sanitary conditions. This type of farms represents 22.06% of the country's pork production. Secondly, there are farms with semi-technified systems, with limited financial resources and that cannot develop intensive and technological systems, so their biosecurity levels are variable. These currently represent 28.11% of national production. Finally, there are farms with fully technified systems, in which technological advances are used in management, nutrition and health aspects, such as strict control of animals and personnel. These farms usually belong to large corporations and house 49.82% of the national inventory of pork heads and 75% of production.
Consumption
Pork has managed to become one of the most consumed foods among the Mexican population in recent years. It is the most consumed meat, after chicken, and represents 26.31% of the total national meat consumption. These figures have made Mexico the eighth country in terms of pork consumption worldwide, with 12 kilos per capita in 2017, which translates into some 2.1 million tons of meat.
Meat market
Different deficiencies in local production and its high consumption have caused pork imports to experience a great boom in the last five years, reaching 1,405 million dollars in 2017.
Mexico has a long history as an importing country and is the sixth country that purchases the most pork from abroad. Thanks to imports, the Mexican pork market can cover a large part of the needs of the population.
Pork imports are specially destined for the food industry, where meat processors transform it before distributing it to the end consumer. In addition to all meat imports, the country is also importing live pigs at higher rates. Genetic improvement programs are increasingly important to the pork industry as major producers are looking for ways to develop better genetic lines for pigs, such as Duroc, in response to production challenges aimed at improving productivity, meat quality and pig growth and temperament.
Future
The growth of Mexican GDP, the modern distribution channels development and the possible fares elimination make Mexico an attractive country for Spanish pork products.
On the other hand, factors such as the per capita income increase and the increase in the cost of beef are expected to continue favouring the growth of pork imports, even at a faster rate than that of local production growth.