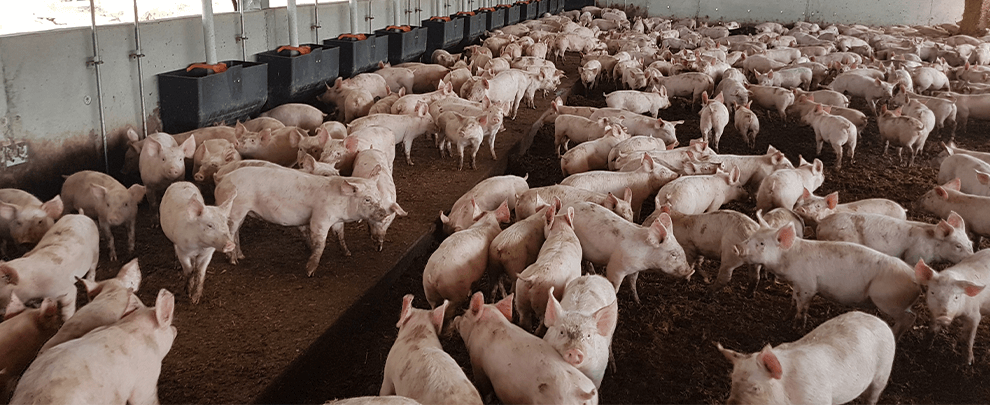 The Australian pig sector becomes more technical, and its production increases
30 of June of 20 - News
Changes in the Australian pig industry have led, over the past few years, to a dramatic change in production figures. If there were around 50,000 pig producers in the 1960s, nowadays there remain only about 600 commercial pig farmers. However, Australia produces as many or more pigs than a few years ago, the consumption of meat is increasing, and imports do not stop, while the government increases biosecurity measures.
Over the past 30 years, many small Australian producers have not had the financial means to concentrate or grow their businesses. As the sector has evolved towards more intensive production methods, infrastructure costs have risen, posing a real challenge for smaller producers, who at the same time, have had to cope with increased pork meat imports. Thus, the largest producers and different companies have been absorbing the smallest, and a much more specialised and technical sector has been fashioned than it was years ago. All this has led to Australia having a higher production than it had five decades ago.
During 2018, the Australian pig sector registered 690 million euros profit. Most of the farms and meat companies are found in the states of Victoria, Queensland and New South Wales, although growth in the sector has been most substantial in the past five years in Western Australia and South Australia.
Consumption
Pork is the third best-selling meat in Australia, behind chicken and beef. With more than 25 million inhabitants, the Australian market is small. Meat consumption has increased over the last five years in Australia, and pork is the class that has grown the most, with an increase in sales of 8% between 2017 and 2018. According to figures from 2019, Australian eats an average of 26.5 kilograms of pork per year. Forecasts show that this amount will increase over the next five years.
This growth in the consumption and demand for pork has occurred, in part, thanks to the communication campaigns launched by the Australian Pork Limited, which have familiarised the population about the health benefits that pork has.
Regarding meat prices, it has been decreasing in recent years until reaching the historical minimum of the last decade, due to a production excess estimated at 6% of the total of Australian pigs. This drop in prices has been detrimental to companies in the sector, which have seen their profit margin decrease.
Foreign market for pork
The Australian industry produces 360,000 tonnes of pork per year, but Australian consumers consume around 550,000 tonnes. Therefore, the country is forced to import from Europe (mainly from Denmark and the Netherlands), the United States and Canada. In 2017, pork imports reached a value of more than € 390 million and accounted for 0.21% of total Australian imports.
It is worth mentioning that in Australia imports are minimal due to the country's strict phytosanitary measures, and it is only allowed to introduce pork from a reduced number of countries, in three distinct modalities (raw meat, cooked meat and cured ham). Currently, only Spain has permission to export cured pork ham to Australia.
The main barrier to pork entering the Australian market lies in the obligation to respect the set of rigorous regulations that regulate the entrance of this product in the country. Therefore, it is convenient to know the protection policies, food regulations, labelling and composition, as well as obtain the necessary permits and documents before carrying out any commercial operation.
As for exports, these are very limited. In 2017 they accounted for just 0.04% of the total value of Australian exports, despite having increased over the past five years. During that year, Australia exported pork worth more than 76 million euros, almost 10% more than the previous year. The main destinations are Singapore, Papua New Guinea, New Zealand, Hong Kong and the Philippines.
Measures before the proximity of the PPA
After confirming that there had been outbreaks of African swine fever (ASF) in East Timor last September, the Australian government expressed its concern, since the country is very close to Australia (it is only 650 km from the Australian city company from Darwin, one of those with the most significant volume of import and export livestock trade in that country). Given this situation, the Australian Ministry of Agriculture has increased biosafety-related surveillance, especially at international airports and, specifically, on flights from countries affected by ASF.
On the other hand, earlier this year, Australia implemented changes to immigration legislation so that international visitors carrying undeclared high-risk items, such as pork from countries affected by ASF, can be deported. These travellers can be denied entry to the country and cancel their visas for up to three years.