Exports in Ireland, the sector support in the country
17 of April of 19 - News
The swine population in Ireland is mainly accomplished by family farms, with a history of outstanding production. Swine production in Ireland comes in third place in the country's gross agricultural production, accounting for 8% of the total. In recent years, Irish pork producers, despite the difficulties, have achieved a gradual increase in productivity. The price of Irish meat compared to the average price of the European Union has improved and, at the end of 2018, it has been at 103%.
SCARCE PRODUCTION
In Ireland there are few swine producers; the figure is likely to hover around 200, with a total population of 1.6 million pigs, including 149,999 breeder sows spread over 290 commercial flocks. This amount is relatively small and is threatening the pig sector, since, at present, farmers lose an average of 3,500 euros per week, and this situation is not sustainable.
With this data, pork production in Ireland the last week of 2018 closed with a count of 15,686 heads, a total of 44,659 fewer heads than the previous week and 5,496 fewer than in the same week of 2017.
Concerning labour, employment in the Irish swine industry represents at least 1,300 work units in local farms, and a total number of jobs involved in the associated industries, such as the processing of pork, the manufacture of feed, transport and services, is estimated to be 8,300 employees.
In 2017, the annual swine census stood at one million six hundred thousand sixteen pigs, a figure that exceeds those of the last decade. The total amount of pork produced per year reached 294 thousand tons. These results are equivalent to an increase in Irish pork production of 11% in just six years, with a significant growth recorded last year. Irish farmers said goodbye to 2018, a year of low prices and stagnation of the pig sector, accompanied by an increase in general costs, with the prospect of a decline in domestic consumption.
Swine producers in Ireland processed each kilo of pork with an approximate loss of 10 cents, while the average price of meat was at a stable average of 1.40 euros/kg, after a series of decreases at the end of 2017 and early 2018. Even so, at present, production costs are around 1.50 euros/kg.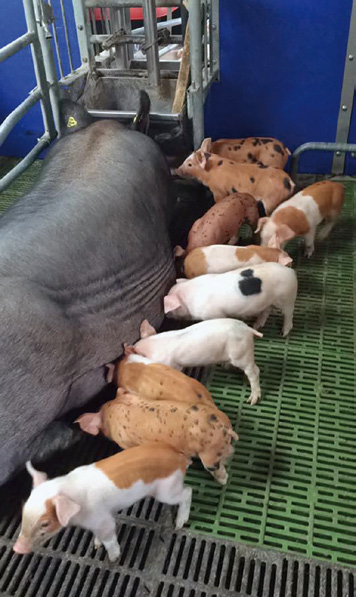 A colorful family of pigs in free farrowing. Photo: McAuliffe Pig Farms.
EXPORTS
The value of Irish pork exports grew by 14% during 2018, reaching over 712 million euros. This increase represents a healthy growth of the swine industry for this country that has increased its export levels to areas such as the Netherlands, Italy and Spain. Irish pork production data released in October 2018 showed that pork exports from January to July had increased by 4% compared to 2017. The high price and profits of last year stimulated a 3% increase in pig meat throughout the European Union. Even so, the biggest problem for Ireland is the slowdown in Chinese pork imports, which were reduced by 20% last year compared to 2016.
In general, the economic situation of the Irish pig sector is facing an increasingly uncertain future. On the other hand, international pressures arising from exports compromised by Brexit have affected trade relations between the United Kingdom and Ireland. Faced with the critical development of pork production, the prices and exports during 2019 will be the key that determines the global result for Ireland. roduction, the prices and exports during 2019 will be the key that determines the global result for Ireland.