Farm to fork, the path to sustainable food
04 of February of 21 - News
Óscar Toledano. Sales Manager & BI Rotecna
There is no doubt that the fight against climate change is a challenge that we must face clearly and unequivocally. Aware of this, the European Commission promotes a package of measures under the name of the EU Green Deal, to encourage a more efficient use of resources to become the first emission neutral continent by 2050.
Regarding agriculture and food, this 2020 the draft of the strategy Farm to Fork, han been presented. Its objective is to address the challenges of sustainable food systems, that link health, the environment and industry, outline the guidelines to be followed in the development of agricultural systems in the next 30 years.
Some of the points of this action plan are:
Stimulate the sustainable development of organic products' supply, going from the current 8% of organic farming crops to 25% in 2030.

Make more sustainable use of food and switch to healthier and more sustainable diets. Halve food waste and decrease food consumption high in salt, sugar and/or fat, and meat, among many other measures.

Promote sustainable food production, for example, reducing the use of pesticides by 50% by 2030, or the use of fertilizers of extractive and synthetic origin by 20% in the same period. Besides, work will be done to reverse the loss of diversity that implies the general specialization of crops and livestock exclusively in the most productive species.

Prioritize the fight against antibiotic resistance, with a 50% reduction in the sale of antimicrobials for livestock and aquaculture by 2030.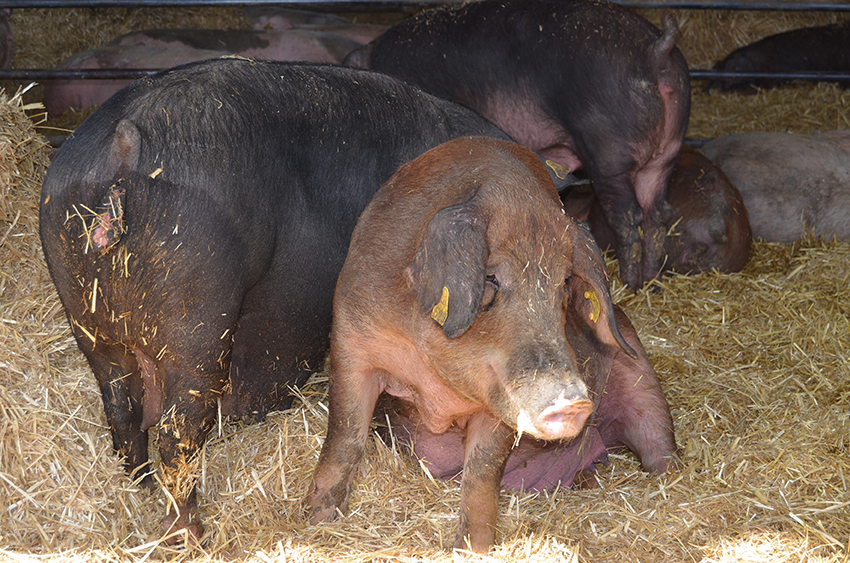 Through different measures it is intended to model the future of pig production. Photo: Rotecna.
These strategies will be articulated through different means, such as incentives in the CAP (Common Agrarian Policy) to help change current practices and tools for more sustainable ones, or stamping to promote responsible consumption.
These measures aim to shape, in part, the future of pork production in Europe in different aspects such as:
The increase in ecological agricultural production will facilitate organic pig production, which in Spain represents only 0.04% of the total. The use of indigenous breeds such as Iberian, Celtic, Mallorcan, etc. It should be noted that these production models are perfectly compatible with intensive ones since there is demand and market for both products and that organic farming is an exciting option for small farmers, and it must be protected.

The consumption of pork in the EU will decrease but demand worldwide will continue to grow, so we must adapt and continue promoting exports.

The use of organic fertilizers such as slurry will be promoted, possibly through the CAP, and nutrient losses should be reduced to avoid environmental contamination and increase its fertilizing efficiency.

Although the EU already has one of the most demanding animal welfare regulations globally, new standards will continue to be implemented. Until now, the improvement of animals' well-being has always been accompanied by an increase in productivity, which allows us to produce more meat with fewer resources, which increases sustainability and, at the same time, reduces costs.

Significant progress has already been made in the reduced use of antibiotics, and the techniques to continue with this evolution continue to improve. Finally, increased animal health should have an impact on increased production and reduced costs.
So we see that a change presents us with both a challenge and an opportunity like so many other times.
On the one hand, as technology leaders, we must once again be pioneers in implementing a transition to a fairer, healthier and completely environmentally friendly food system that encompasses the entire food chain. We have to minimize the environmental and climatic footprint, being an example to follow for the rest of the planet and commanding change.
On the other hand, as large food producers and exporters, this model guides us even more towards the final consumer, who is increasingly environmentally conscious and responsible. Investing in a production model with higher added value will differentiate us and improve our products' positioning in international markets. This is especially important in the case of the pig sector, since some of our main competitors, like USA USA, Canada and Brazil, they have a clear advantage in terms of production costs, since they have raw materials at a lower price, and that, when supply and demand are equalized, since we are net exporters, leaves us at a disadvantage if we offer meat as a commodity (product).