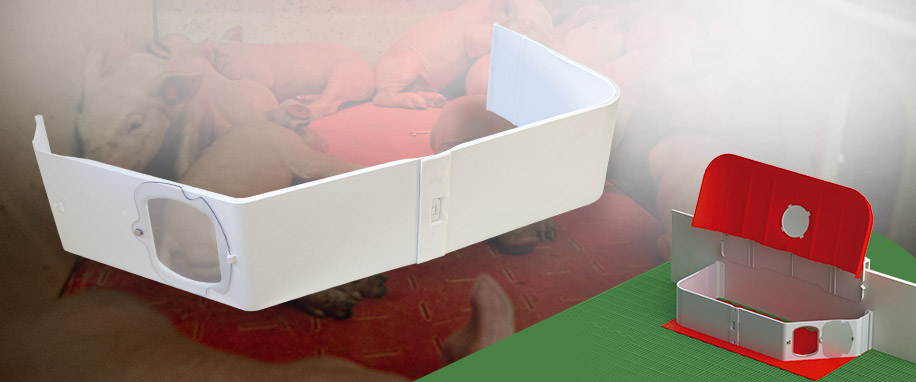 New fence por NI-2 mobile
17 of October of 19 - News
Rotecna expands its range of possibilities in the design and management of maternity wards with the launch of the fence for the mobile Ni-2.
This accessory, already available in the Ni-2 corner, favours the conservation of the temperature inside the nest and facilitates the management of piglets by the operators since it is possible to keep them locked or to allow them to enter and leave the comfort area through the door.
The mobile Ni-2, available in opaque or transparent, is portable and can be easily moved from one place to another, allowing its use in the positions required according to the age of the piglets. Besides, its adjustable height maximises the microclimate effect generated inside.
The inclusion of a fence as an accessory increases the benefits of the nest, such as improving the wellbeing of the piglets, reducing mortality rate, achieving higher weight at weaning and reducing the energy cost in maternity wards.
Nests are an idyllic tool to achieve a higher survival rate and higher weight measurements of piglets at weaning. They help to create a protective space for new-borns, free from air currents and to ensure optimal temperature for piglets, as they maintain a suitable temperature for sows in maternity wards. Furthermore, having nests fenced facilitates the work of the operators in the different tasks they perform with the piglets, such as split nursing, carrying out specific treatments or helping them to recognise their comfort area and safety against the risk of being crushed.
It is essential to preserve the ideal temperature of the piglet inside the nest during lactation to ensure that all its energy is used for growth, instead of it being used for thermoregulation. The thermoneutrality range of the piglet decreases proportionally to its growth.
The benefits of working with nests in farrowing pens are increased when they offer the possibility of fencing.
NI-2 MOBILE FENCE ADVANTAGES:
· During birth, it helps organise the tasks of drying and improving the body temperature of new-born piglets, especially the weakest and smallest.
· It allows for split-nursing so that in large litters, no piglets are left behind.
· It facilitates the carrying out of specific treatments, such as vaccine administration, animal control and the filing of teeth.
· It creates a safe area for piglets, which increases their thermal comfort, growth and, at the same time, reduces energy consumption.
· Reduces the risk of being crushed by the sow by reducing the learning time and the period of the piglet's permanence in the nest.